To many, the whole Jindal-tanning saga started with a tweet, that given his stance on hyphenated Americans, could only be construed as trolling
But rest assured — I'm tanned, rested, and ready for this fight.

— Gov. Bobby Jindal (@BobbyJindal) June 24, 2015
Jindal followed the trolling with a campaign t-shirt along similar lines

Jindal is no stranger to a weird saga of cognitive dissonance related to skin color. His official portrait resembles Scott Walker, another one of his fellow 23% of Americans afflicted with "running for GOP candidate for presidency" disease.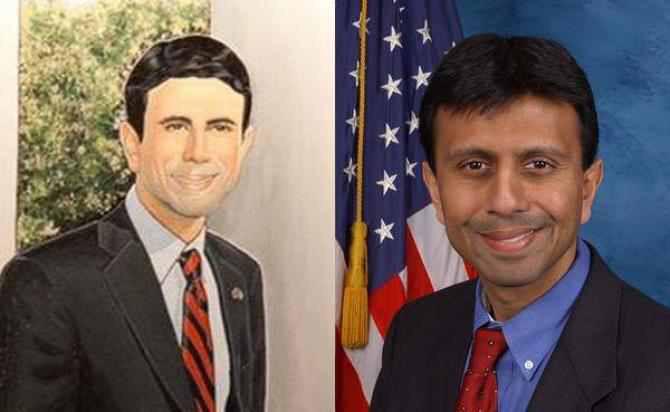 Bonus: Jindal's Twitter bio cover has his photo with the homophobic Robertsons of Duck Dynasty fame. I can only conjecture this serves to further his "tanned" credentials.


How tanned and rested was Bobby? He inherited a state with a myriad of problems and actually made them worse. More of his own party prefer, he *not* run for presidency than those who do, which is an achievement of sorts in itself.
Though the election is still more than a year away, a survey of Republican voters found more voters would prefer Jindal not run (20 percent) than favor his candidacy (14 percent).
Recent events in America have made us question the traditional notion of gender, sexuality and even, race, with the term transracial gaining some airtime because of a certain Rachel Dolezal. I don't feel I'm qualified enough to judge the validity of the term and whether Bobby Jindal could qualify as transracial. However, given his love for tanning and his hatred for hyphenation, I feel comfortable anointing him:
Bobby Jindal, the first Tansracial-American.
*On a side note: I do not approve of Bobby Jindal running for any public office at any level. I approve this message.